Key Features
Final Fineness ≤ 50 μm .
Fast and effective Analytical pure grinding.
Homo genizing is achieved continuous mixing during grinding process.
Reproducible Grinding/Homogenizing.
Application Area
Soft, Medium and Hard Material
Pulverizing, Mixing, Homogenizing, Colloidal milling
Mining and Metallurgy
Chemical Industries
Geology and minerology
Ceramic Industry
Rock and soils
Vibratory Cup Mill(VCM)
Eloquent VCM are designed for powdering material less than 50 μm.
Technical Specification -VCM-100

Power

1.5 kw/2 HP,1440 rpm

Electrical Details

430 V /3 phase~,50Hz,or 220 V /1 phase, 50Hz

Weight

Dimensions
Technical Specification -VCM-100

  8-10 mm

≤5 µm

400ml,250ml,150 ml

Bowl 1No. 1 Ring & 1 Hammer

Hardened steel with tough Core
Technical Specification -VCM-100 Working  construction

Impact, Friction

Batch wise/continuous

Hard,Medium-Hard,brittle

Ring and hammer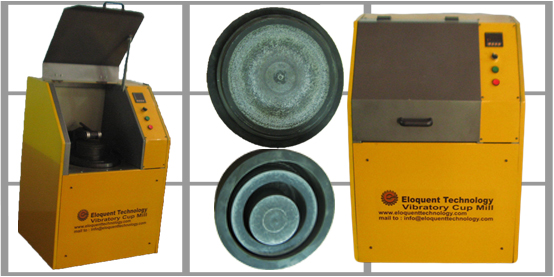 `